St. Martin's 2013-14 20th Anniversary Season
Echoes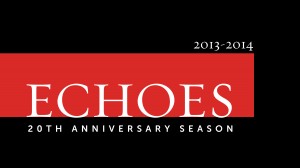 St. Martin's Founder and Artistic Director Timothy Krueger writes and talks about the upcoming Christmas concerts: "Echoes of Christmas Past: A Salzburg Christmas":
In this 20th Anniversary Season of St. Martin's Chamber Choir, I think our Holiday concerts will be among the most enticing we've ever presented. Entitled "Echoes of Christmas Past: A Salzburg Christmas", St. Martin's joins with six members of the Baroque Chamber Orchestra of Colorado to present Christmas works from Salzburg.
Centerpiece of the concert is the 8-movement Responsoria ad Matutinem in Nativitate Domini ("Responsories for Christmas Morning") by Johann Michael Haydn (1737-1806).  Johann Michael was the more famous Franz Josef's younger brother, and, after following his older brother as a choirboy at St. Stephen's Cathedral in Vienna, the younger Haydn was employed by the Prince-Archbishop of Salzburg. Unlike Mozart, with whom he worked, J. M. Haydn was content with his employment in Salzburg, and worked there the rest of his life, composing much music for use in the cathedral (sacred) and the archbishop's palace (secular and instrumental).
The 9th movement of the Responsories is a Te Deum, but Haydn did not write one with this set, but instead coupled a variety of different settings with his responsories, so I will do the same and append W. A. Mozart's exuberant Te Deum (K. 141) as the conclusion.
The music of Tomaso Albinoni, who resided just over the mountains in Venice, made frequent appearances in Salzburg Cathedral services under the Italian-loving archbishops of the mid-18th century. His setting of the Magnificat, which is a text used often in Advent and Christmas services (Mary's song of joy upon hearing she was bearing the Christ child), will be sung, featuring our superb soloists Cynthia Henning, Leah Creek, Ray Ortiz and Robert Avrett, as well as the orchestra and choir.
The above three works comprise the "cathedral" side of a Salzburg Christmas. The rest of the program is devoted to more of a "village" Christmas, taking for its inspiration "Stille Nacht", written by Franz Gruber for the parish church of Oberndorf, a small village just a few miles from Salzburg. A medley of arrangements of "Silent Night" (including one in German, one in Spanish and a few verses allowing the audience to sing along) will represent the "village" Christmas, along with a rustic "Sonata e Pastorale" by Heinrich Biber (also from Salzburg) played by the orchestra.
A couple additional items not related to Salzburg will be added for two reasons of timing: Given Sir John Tavener's untimely death mid-November at the age of 69, I have decided to begin the concert with his lovely setting of "The Lamb." And, because our CD featuring three of Henri Hardouin's a cappella masses is just being released and will be available for sale, I have decided to add a few brief settings by Hardouin of the text Quem pastores that I discovered recently. Hardouin had absolutely nothing to do with Salzburg; but he was a contemporary of J. M. Haydn and Mozart, and these are winsome little settings of this Christmas text about shepherds, so I decided to violate my theme and add them to the beginning of the second half (just before the Responsories)… I'm sure no one will actually mind this!
I'm told that ticket sales are  brisk so it might not hurt to plan ahead and get your tickets now at 303-298-1970, or online here.

Friday, December. 13, 7:30 pm, Broomfield Auditorium
Sunday, December 15, 3:00 pm, Montview Presbyterian Church
Friday, December 20, 7:30 pm, St. John's Episcopal Cathedral
I look forward to celebrating the sounds of the season with you!
---
Maestro Krueger talks about the concerts:
---
Single-concert tickets for all of St. Martin's 2013-2014 season are available by clicking HERE. For further information or to place a ticket order by telephone, call the St. Martin's office at 303-298-1970.