Friday, June 7, 2013, 7:30 p.m.
One performance only!
Festive Flourishes: Glorious Music for Choir and Organ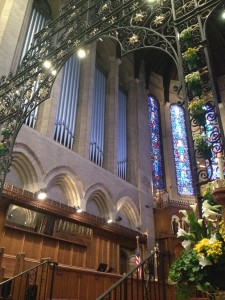 St. Martin's "pulls out all the stops" for its season finale with a program of music for choir and organ! The organist will be Eric Plutz, presently the University Organist at Princeton University and formerly the assistant organist at Saint John's Cathedral. The main work of the evening will be Alexander Gretchaninov's unique Missa Festiva, an intriguing blend of East and West, with the festive trappings of a Western-style Catholic Mass overlaid with ponderous Eastern Orthodox harmonies. Arvo Pärt's The Beatitudes and two works by the English composer Kenneth Leighton, "Crucifixus pro nobis" and "Solus ad victimam", round out this stunning concert of modern classics. Mr. Plutz will also play two solo works on the newly restored 96-rank Platt Rogers Kimball organ – works by Pärt and Max Reger. This is a program not to be missed!
Friday, June 7, 2013, 7:30 p.m.
Saint John's Episcopal Cathedral
1350 Washington Street
Denver, CO 80203
Purchase single-concert tickets
Or call the St. Martin's office at 303-298-1970.
Maestro Krueger talks about the program: