Up Next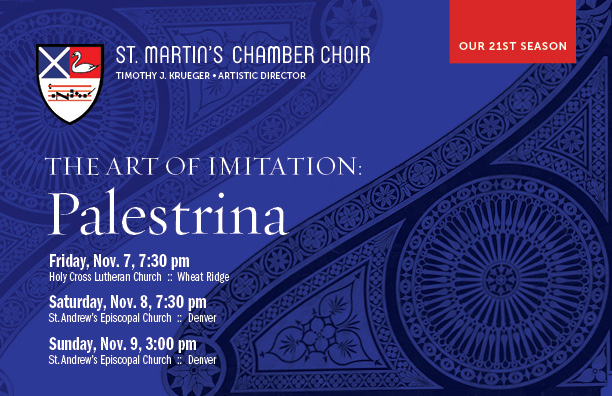 The art of imitation: Palestrina
Palestrina's name is synonymous with the Renaissance technique of Imitative Counterpoint. This is fascinatingly illustrated in his five-voice Missa Repleatur os meum, where the imitation in each successive movement is increased by a step and decreased by a beat. So the Kyrie features a canon (imitation) at the octave (8th) offset by 8 beats; the Christe canon is at the 7th offset by 7 beats; etc. This is a compositional tour de force the likes of which only Bach ever equaled, and will be explained in the concert itself, with demonstrations, so that the audience is aware of the truly amazing feat that Palestrina accomplished in this astounding work. Click below to purchase tickets:
Friday, November 7, 7:30 pm, Holy Cross Lutheran Church, Wheat Ridge
Saturday, November 8, 7:30 pm, St. Andrew's Episcopal Church, Denver
Sunday, November 9, 3:00 pm, St. Andrew's Episcopal Church, Denver
Maestro Krueger talks about the concert:
Click here to read the latest from the Artistic Director about upcoming concerts.