Up Next
CHANT: MYSTERY AND MYSTICISM
Nin-Culmell Symphonie des Mystères
A Cameo Concert with organ
Do you enjoy concerts where you can just close your eyes and let the music hypnotize you into another world?  That's how St. Martin's next concert will be, Chant: Mystery and Mysticism. In 1996 the men of St. Martin's, together with organist Richard Robertson, made the premiere recording of Spanish composer Joaquin Nin-Culmell's Symphonie des Mystères, in the presence of the composer. A student of Dukas and de Falla, and inspired by Messiaen, Nin-Culmell (1908-2004) traces a dramatic arch in this work, charting the birth, crucifixion, and resurrection of Christ, alternating Gregorian chant with powerful movements for organ. Twenty years later, the same grouping teams up to reprise this work on two of Denver's finest pipe organs.
This is a short video of Maestro Krueger discussing Gregorian chant and the program.
Friday, February 12, 7:30 pm, Saint John's Episcopal Cathedral, DenverNOTE: The Saint John's performance is erroneously listed as 7:00 in the season brochure
Sunday, February 14, 3:00 pm, Saint Paul Community of Faith, Denver
Click on the desired performance for ticketing.
---
Good things come in threes!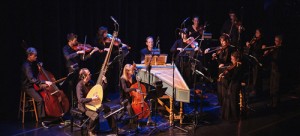 Join the Baroque Chamber Orchestra of Colorado as it celebrates its 10th anniversary season with three timeless masterworks of Johann Sebastian Bach performed on period instruments. St. Martin's Chamber Choir joins the chamber orchestra for two festive cantatas — Wachet auf (BWV 140) and Himmelskönig, sei willkommen (BWV 182). Plus, Cynthia Miller Freivogel, Martin Davids and Stacey Brady take center stage for Bach's brilliant Concerto for three violins, strings and continuo.
Bach Times Three
February 26-28, 2016
CYNTHIA MILLER FREIVOGEL, violinist-leader
ST. MARTIN'S CHAMBER CHOIR – Timothy Krueger, artistic director
With vocal soloists: Laura Heimes, soprano; Leah Creek Biesterfeld, alto ; Daniel Hutchings, tenor; Sumner Thompson, baritone
The Baroque Chamber Orchestra of Colorado
FRIDAY, FEBRUARY 26, 2016 at 7:30 PM
Claver Recital Hall at Regis University
3333 Regis Blvd., Denver
TICKETS   Map   Parking
SATURDAY, FEBRUARY 27, 2016 at 7:30 PM
King Center Concert Hall, Auraria Campus
855 Lawrence Way, Denver
TICKETS   Map   Parking
SUNDAY, FEBRUARY 28, 2016 at 3:00 PM
(Pre-concert talk at 2:00 pm)
Bethany Lutheran Church
4500 E. Hampden Ave., Cherry Hills Village
TICKETS    Map    Parking
Tickets: $30 regular; $25 seniors and military; $10 students