Nathaniel Dett Fellowship
St. Martin's Chamber Choir is thrilled to announce a new and exciting opportunity to help accelerate the careers of musicians from backgrounds that are historically underrepresented. We aim to remove barriers to ensure every musician and singer can have their voice heard.
The SMCC Nathaniel Dett Fellowship provides an opportunity for African American, Latin American, Asian American, and Native American singers early in their musical career to sing with Colorado's only year-round, fully professional choir. The fellowship is named after the Canadian-American Black composer, Nathaniel Dett, who was a prominent choral director and composer. Fellowship activities will include performing with St. Martin's, private lesson opportunities, audition preparation, and more.
Program eligibility includes singers coming from populations that are historically underrepresented, including African American, Latin American, Asian American, and Native American backgrounds. Singers need to be at least 17 years of age.
Interested in applying? Please email a short (approximately one paragraph) letter of interest describing your musical background. Once received, we will reach out to set up a short interview and low-pressure audition.
2022-23 Nathaniel Dett Fellow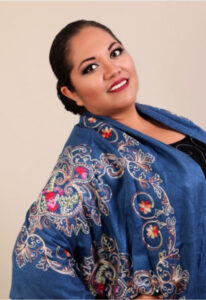 Alicia Irigoyen Pons, Soprano, was born in Guadalajara Jalisco.
She started her voice studies with Héctor Irigoyen Infante, Baritone, and  has continued her vocal traning with the following professors: Edith Contreras Bustos (UNAM and Universidad de Guanajuato), Yvonne Garza (Ópera de Bellas Artes), Antonio González (Director del coro Ángela peralta de Mazatlán), Ángel Rodríguez (Compañía de Ópera de Bellas Artes), Arturo Rodríguez (Dire Ópera of México Company Director), Conchita Julián (Ópera de Bellas Artes in México), and more recently with the soprano from Spain, Laura Alonso Padín (Prom Ópera Company of Spain).
Alicia Irigoyen is a music, piano, and voice teacher at Universidad Autónoma de Coahuila, Universidad Iberoamericana, and Academia Superior de Canto among others.
In 2014, she participated with Tenor Fernando Ortíz in the Mexican Concert as soloist with the  Orquesta Sinfónica Juvenil de Torreón under the direction of maestro Ethan Eager. She was a soloist in Beethoven's Choral Fantasy in 2000 with Camerata de Coahuila Orchesgra under the direction of Ramón Shade.
On June 2019, she Sang the Cavalleria Rusticana duet alongside tenor Gerardo Rodríguez from Leon with the Orquesta Sinfónica de Chihuahua under maestro Raúl García. Also in 2019 she was soloist with Compañía de Ópera All'unisono in Faure's Réquiem  in Torreón. In November 2019, she was invited by the  Choir of the City of Oaxaca to perform Mozat's Réquiem and Faure's Réquiem.