Nathaniel Dett Fellowship
St. Martin's Chamber Choir is thrilled to announce a new and exciting opportunity to help accelerate the careers of musicians from backgrounds that are historically underrepresented. We aim to remove barriers to ensure every musician and singer can have their voice heard.
The SMCC Nathaniel Dett Fellowship provides an opportunity for African American, Latin American, Asian American, and Native American singers early in their musical career to sing with Colorado's only year-round, fully professional choir. The fellowship is named after the Canadian-American Black composer, Nathaniel Dett, who was a prominent choral director and composer. Fellowship activities will include performing with St. Martin's, private lesson opportunities, audition preparation, and more.
Program eligibility includes singers coming from populations that are historically underrepresented, including African American, Latin American, Asian American, and Native American backgrounds. Singers need to be at least 17 years of age.
Interested in applying? Please email a short (approximately one paragraph) letter of interest describing your musical background. Once received, we will reach out to set up a short interview and low-pressure audition.
2023-24 Nathaniel Dett Fellow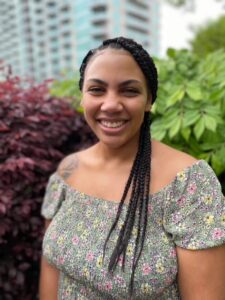 Bianca Thomas has a Bachelor of Music Education and Bachelor of Music in Vocal Performance from Metropolitan State University of Denver. She was a very active member of the choir program at MSU Denver under the direction of MB Kreuger and served as a leader, tutor, and student teacher in the community for many years. During her time at MSU Denver, she auditioned for a singing internship with St. Martin's Chamber Choir and was awarded the internship, performing with them in their 2021-'22 season. She is excited to be back for the ''23-'24 season with SMCC and extremely honored to be the Nathaniel Dett Fellow.
Bianca has been a performer her whole life, singing in church choirs, school choirs, singing and playing instruments with her family, and performing in many opera and musical theater roles. In 2019, Bianca attended the Orfeo Music Festival in Vipiteno, Italy, where she performed an Opera scene as Idamante from Idomeneo, as well as other solo arias and oratorios. She was also asked to be a guest conductor for the MSU Treble Choir by MB Krueger in the Fall of 2021. She received recognition and the McCollum Endowed Scholarship (2020) for her dedication to and success in Music Education, and the Beverly Christiansen Fernald Endowed Scholarship (2021) for her accomplishments in her private voice study and performance. She graduated as an honoree for the MSU Denver Music Department with many accolades in December of 2022, and is currently the Vocal Music Director at Gateway High School in Aurora, CO.
Past Fellows
Alicia Irigoyen Pons (2022-2023)