Mark Sheldon Conducting Internship
History and Program description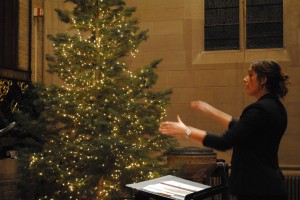 In 2003, after a long battle with cancer, beloved KVOD radio host, St. Martin's singer and assistant conductor and all-around music educator Mark Sheldon passed away. A legacy was established in his memory to be used in part for educational outreach. The Mark Sheldon Conducting Internship was established to fulfill this part of his legacy.
The conducting internship is one of the few, perhaps the only one of its kind in the US. It provides this unique opportunity for college conducting students to conduct a professional choir on an ongoing basis during a concert season. Potential interns go through an application process and the intern is selected by St. Martin's Artistic Director, Tim Krueger. The intern is expected to attend all rehearsals, assist in rehearsals and conduct when Mr. Krueger is unavailable. Perhaps most unusually, the intern is also assigned at least one piece to conduct in nearly every concert. The intern is warmly welcomed into the St. Martin's family and builds a rapport with singers and staff, is encouraged to attend St. Martin's board meetings and serves on the Education and Outreach committee of the board. With all these duties also comes an internship stipend. The expectations are rigorous, but the rewards are immeasurable (see quotes below.)
2023-24 Mark Sheldon Conducting Intern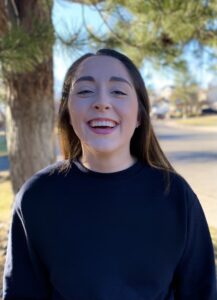 Sara Garza (she/her) is a passionate conductor, educator, and vocalist who believes firmly in the necessity of equitable music education for all. Hailing from Lakewood, Colorado, Sara is currently pursuing her Master of Music degree in Choral Conducting at the University of Denver, where she is a
Graduate Teaching Assistant for Voces Aureas and the Lamont Chorale. She received her Bachelor of Music Education degree from Metropolitan State University of Denver, where she studied voice with Gene Roberts and conducting with MB Krueger.
Prior to her graduate studies, Sara served as both the Vocal Music Director and the Spring Musical Director at Evergreen High School. She currently holds a position on the Colorado ACDA board, where she enjoys coordinating events and connecting with colleagues. Sara has performed with Elus Vocal Ensemble and the Colorado Symphony Chorus, as well as several collegiate ensembles and church choirs – she even enjoyed an undergraduate singer internship with St. Martin's Chamber Choir in 2018!
In 2022, Sara was honored to receive Evergreen Children Chorale's Arts Teacher of the Year award, given for her dedication to enrichment and
inspiration of the arts in young people. She plans to return to the high school classroom after obtaining her Masters to continue in her passion for
educating young musicians.
2022 – 2023 :: Samuel Sherman, University of Denver
2021 – 2022 :: Sheila Melendez, University of Denver
2020 – 2021 :: Drew Ritchie, University of Denver
2019 – 2020  :: Michael Ballard, University of Denver
2018 – 2019 :: Blake Nawa'a, University of Denver
2017 – 2018 :: Michael Johnson, University of Denver
2016 – 2017 :: Ana Spadoni, University of Denver
2015 – 2016 :: Matt Stewart, University of Denver
2014 – 2015 :: K. James Howe, University of Colorado, Boulder
2013 – 2014 :: Brett Kostrzewski, University of Denver
2012 – 2013 :: Taylor Martin, University of Denver
2011 – 2012 :: Hannah Wunsch, University of Colorado
2010 – 2011 :: Adam Kluck, University of Northern Colorado
2009 – 2010 :: Brian Stone, University of Colorado
2008 – 2009 :: Jill Schroeder, University of Denver
2007 – 2008 :: Ace Edewards, University of Denver
2006 – 2007 :: Gabrielle Dietrich, University of Colorado
2005 – 2006 :: Heather Kohl, University of Denver
The Mark Sheldon conducting internship is ongoing. If you are a conducting graduate student in Colorado, please consider applying for this program. If you are a college choral music professor, or if you know of Colorado conducting students who would be interested, please let them know about this internship.
All inquiries and applications should be directed to St. Martin's Artistic Director, Tim Krueger.
"I enjoyed learning with and from an excellent director, a FANTASTIC choir, and being able to study/perform diverse works. Extremely grateful that I was able to get so much podium time and that throughout it all, it was a collaborative process"
"Many of us aren't used to choirs doing all the things they need to in such a small amount of rehearsal time. (The singers) are extremely musical by default, giving the conductor so much freedom with their artistic vision."
"This is a singularly unique opportunity where we as conductors are able to have the high caliber musical experience of a professional choir."
"The Mark Sheldon Internship proved to be a most rewarding educational and artistic experience. Conducting an ensemble of the highest musical caliber, in such a warm and supportive environment, is of infinite value to the young conductor."
"Working as the Mark Sheldon Intern was one of the most valuable experiences I had as an aspiring conductor. It was a rare and privileged opportunity to stand in front of an ensemble of professional singers, who were also kind and supportive!"