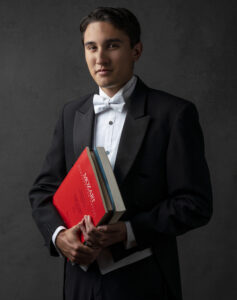 Minnesota native, Grant Johnson, joined St. Martin's Chamber Choir in 2022 as Executive Director. He was previously a member of the Pittsburgh Symphony Orchestra for three years as Assistant Librarian. Prior to that, Grant spent two years with the Phoenix Symphony. He has held positions with the Minnesota Bach Ensemble and Aspen Music Festival, and has worked in the libraries of the Cleveland Orchestra, Minnesota Orchestra, National Symphony Orchestra, and St Paul Chamber Orchestra.
Grant Johnson's musical career began at an early age, starting violin at age four, piano at six, and organ in college. At age ten he became a member of the renowned Minnesota Boychoir, and with them toured and recorded extensively. As a violinist Grant has played with many orchestras, including the Phoenix Symphony, and was concertmaster for multiple orchestras while in school at the University of Minnesota. With a passion for early music and historically informed performances, Grant specializes in baroque organ music and has appeared as a featured performer for the American Guild of Organists.
An avid supporter of the arts, Grant was Vice President of the Young Musicians of Minnesota, an organization dedicated to promoting and supporting classical music for young musicians. With them, he has been published and featured as a guest on Minnesota Public Radio.
In his free time, Grant likes to stay active and enjoy the outdoors. His hobbies include rock climbing, Nordic skiing, trail running, cycling, tennis, and birding. He also likes to cook, travel, and attempting to golf.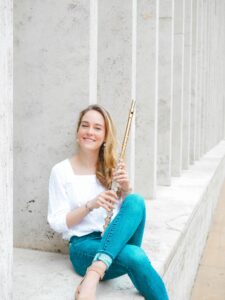 An award-winning flutist, content creator, and educator, Katie Althen enjoys a rich career with a multifaceted impact on the arts. She has performed in concert halls across the U.S. as well as in Argentina, Mexico, and Bermuda. Katie is a founding member of the NYC–based Sonora Collective, a group that brings music to art galleries and other unique spaces. Eager to diversify her impact, Katie is known to a wide audience for her contributions to the music community on social media where she has amassed over 150,000 followers and subscribers, as well as over 22 million views. A passionate educator, Katie maintains a private online flute studio and is an Artist Faculty member of The Charles Ives Music Festival at the Western Connecticut Youth Orchestra. Katie holds a M.M. from Juilliard and a B.M. from the New England Conservatory. She resides in NYC with her partner, violinist Jeremías Sergiani-Velázquez, and their Havanese dog, Miguel. www.officialkatieflute.com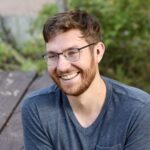 A child of two church organists, Will first became associated with St. Martin's as a singer, and leans on his musical background for his approach to technical production. He has worked in production for 10 years for a variety of clients, including RE/MAX, Denver Center for the Performing Arts, The World Bank Group, and numerous production companies around the country. Will specializes in livestreaming, video production, projections, technical direction, and video engineering. Will has a rich singing career, performing and touring since childhood with a variety of groups including the American Boychoir, UW-Madison choirs, Fundamentally Sound a cappella, St. Paul's K St, Washington, D.C., St. Andrew's Denver, St. Martin's Chamber Choir, and others. He enjoys hiking, biking, photography, making terrible jokes, and wondering why his partner, Elise, doesn't laugh at them.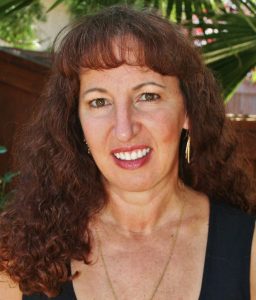 Micaëla Larsen Brown is a singer, substitute teacher, and seamstress in Denver.  She has sung with St. Martin's Chamber Choir since 2006, and still sees it as a high honor!  Micaëla taught elementary music for almost 30 years and is committed to making classical music a key part of students' music formation.  She designed and developed the workshops that St. Martin's has taken to schools throughout the greater Denver metro area and she enjoys being the moderator for most of those.  Micaëla also sings both professionally and as a volunteer for multiple senior communities.  She sees the need for as much in-person musical performances as possible in our senior communities.  Her music education and her senior outreach experiences make her a logical person to lead the Education and Outreach endeavors of St. Martin's Chamber Choir.  She has enjoyed doing so since 2008.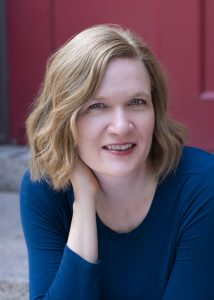 Ashley has been a graphic designer since earning her MFA from UCLA in 2005. She is a full-time instructor of animation at the University of Colorado Denver, where she teaches 3D foundations and 3D animation using Maya. She has been a freelance web designer and graphic designer since arriving in Denver in 2010.
Ashley has been singing with St. Martin's Chamber Choir since 2010, before which she sang in Los Angeles for 4 years. Ashley's lifelong love of music includes playing the piano professionally, as well as dabbling in classical guitar and mandolin.
Elaine Granata – President
Jay Mead – Vice-President
Grant Johnson – Interim Manager
Gary Williams – Treasurer
Ellen Wilson – Secretary
Julie Beggs
Janel Highfill
Peter Thulson
Interested in joining the board?