St. Martin's Chamber Choir was saddened to announce that after a long, courageous battle with cancer Mark Sheldon, former St. Martin's assistant conductor and singer, passed away on December 9, 2003.  He was one of the most gracious souls we have ever known, and he is greatly missed.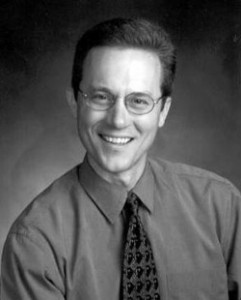 St. Martin's 10th Anniversary Concert "Service High and Anthems Clear" on June 4th and 6th, 2004 was in part a memorial to Mark and his legacy.  The concert included the world premieres of Janet Vanden Bosch's "These Few Tears: In memoriam Mark Owen Sheldon" and Terry Schlenker's "Mass for Double Choir". Herbert Howells' "Requiem", was performed at Mark's request.
Mark was host and producer for a nationally syndicated classical music radio network heard locally on Colorado Public Radio.  He sang with the Dale Warland Singers, the Bach Society Chorus of Minneapolis and the Minnesota Chorale.  He received his Bachelor's in Music Education and Masters in Choral Conducting from Brigham Young University and taught high school music in California.  He was host/producer of national broadcasts of the Minnesota Orchestra and the Utah Symphony, the Grand Teton Music Festival, and the national Christmas broadcasts of the Dale Warland Singers.
The Mark Sheldon Memorial Fund
A memorial fund was set up by St. Martin's at Mark's request after his death in 2003. Many generous contributions from friends and supporters of Mark's formed the core of this fund. The St. Martin's Board of Directors then decided that in order to honor Mark's commitment to recorded music and radio, and to music education, St. Martin's would use the fund to underwrite the choir's recordings, and to fund a conducting internship. All revenues from CD sales are deposited back into the fund, so it is perpetually replenished and is a tangible tribute to Mark. The conducting internship is an annual position offered to a local graduate conducting student, and offers rehearsal and concert conducting experience, along with exposure to the administrative and Board governance of a professional choral ensemble.